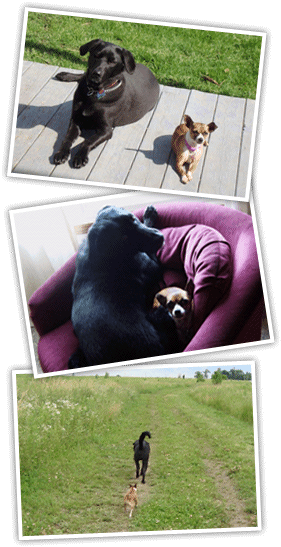 About Us
Doggie Digs Dog House began as an idea over dinner at a Mexican restaurant with margaritas. It was inspired by two dogs…a 60 pound lab mix named Miller and a 6 pound Chihuahua named Tequila. One may find it hard to think that these two could become friends. Or, 2 humans who were used to owning big dogs all their lives could imagine having such a small dog.
We've always heard that dogs choose us and that's exactly how Miller and Tequila found their way to us. Miller came from a local humane society in 2006. Tequila was found on the streets in 2009, clearly showing signs of neglect. Miller, to say the least, was not very happy to have a new sister. And, Tequila was trying to figure out how to run the house. She managed to crawl her way into all our hearts very quickly. Although it was not love at first sight between them, these two very different dogs have come to love each other very much. They are now the best of friends and share a bond that is unique to just them…and Miller lets Tequila run the house.
As owners used to big dogs, we also realized that everything Miller had we needed to get for Tequila…just in very small sizes. So, came new bowls, collars, leashes, beds, blankets, toys and one thing that was very new to us…clothes! We quickly learned that she gets cold in the winter as well as the summer.
We wanted to create a boutique that has unique and affordable items. And, that is Doggie Digs Dog House…Not Your Typical Dog Boutique! Quality is very important to us as well as being able to provide great items at great prices for dogs of all shapes and sizes.
It is important to us that you are completely satisfied with your purchase. If for any reason you do not absolutely love your selections, we will gladly issue a refund for the value of the merchandise or exchange your items within 30 days of purchase. Original shipping and handling fees are not refundable. All items must be returned in the condition they were received. Returns must be in the original packaging with tags attached.
We hope you like the items we offer and much thanks from two strays that can now enjoy life and each other…